By Richard E. Kelly

In Robert Jay Lifton's groundbreaking book, Thought Reform and the Psychology of Totalism, Lifton describes the eight methods of control that unethical pseudo-religious groups use to psychologically manipulate the minds of their members.
In 1961, Lifton used the words thought reform to describe psychological manipulation, while today most people prefer to use the words mind control, undue influence or brainwashing.
So what are these eight methods, or criteria, of undue influence in a group setting? Does Watchtower use any of these methods to control the minds and behavior of eight million Jehovah's Witnesses? To answer this question, let's explore what these methods are, as follows:
Milieu (Environmental) Control– Manipulative religious groups report to its members that all the information they need is to be provided only by the group's leaders. Some information is even deliberately held back and distorted. What is known at any given time varies with the position the members hold in the group.
Members are told not to trust any material that is critical of the group, or read any literature that is not printed by the group. Members are not to get close to those outside the group, or associate with former members. Higher education is frowned upon, and member's time is consumed with only group-approved activities.
Mystical Manipulation– The group's leaders arbitrary attribute God's support on its projects, successes, special events, numerical increases, law suits that go in their favor, building projects and financial contributions that suit their best interests, etc.
Members are encouraged to have a child-like trust in whatever they are taught. The group is the only group God works with. Members are made to feel "chosen"; that their one true purpose in life is being fulfilled. In so doing, they lose their critical thinking skills and are unable to exercise their independence and their own decisions about the group's beliefs with respect to basic human rights and good science.
The group is made to feel that they have a higher purpose than others outside the group; that members will be saved and rewarded because of being in the group. All things are attributed and linked to this higher purpose.  Attention is given to the problems of worldly people and attributed to their not being in the group.
Demand for Purity– The group imposes unreasonable rules and unreachable standards upon its members. The shaming aspect in that environment is gradually internalized by members as guilt, further magnifying their dependence on the group's leaders. Individuals can easily feel inadequate and are submissive as critical questioning is not allowed, with mystical manipulation validating its rules.
Perfection and striving against sin, which is defined by the group's leaders, is stressed, along with fear of what will happen if one fails, or leaves the group. These rules keep members isolated from the outside world and dependent on the group.
The purity of the group, known as "God's organisation" is constantly being defined and redefined by the group's leaders. Those who do not attend all the group's meetings and scheduled activities are "spiritually weak".
Confession– There is a constant struggle regarding what to reveal and what to keep secret, but members feel a need to confess their thoughts, their experiences and all that the group considers sin, sexual misconduct, and reporting dissent.
Members are encouraged to go to local group leaders to confess sins. Deeply personal matters should be confessed to unqualified and uneducated men. This may include smoking tobacco or secret alcoholism. Or if a youngster "has a problem with masturbation", he or she is expected to confess.
In smaller groups there will be members who regularly confess, or express anxiety about, "bad thoughts", being in a constant state of uncertainty and unworthiness before God. Confession merges members with the group and its goals. And when members end up being made to feel it is their fault, they feel more hopeless, more guilty and more in need of striving.
Sacred Science – The group's teachings are presented as the ultimate truth and scientifically correct. It is the truth which God reveals only to the group's leaders and not to be questioned because that would be questioning God. It is true science that if adhered to will give followers everlasting life or salvation.
The beliefs and regulations of the group are framed as perfect, absolute and non-negotiable. Rules and processes are to be followed without question.
Loaded Language– The group's language—its choice of words—serves the purpose of constructing groupthink and shutting down critical thinking skills. Groupspeak forces members to censor, edit and slow down spontaneous bursts of criticism or opposing ideas. Soon members find it easier to talk among themselves than with outsiders, who are given derogatory names like "worldly" or "apostates".
New words and language are created to explain the new and profound meanings that have been discovered by the group's leaders. Existing words are also hijacked and given new and different meaning, which is often called "new light".
When the group's leaders control the meaning of words, it controls how members think. In this way, black-and-white thinking is embedded in the language, so that wrong-doers are framed as evil and "turning their back on God", while those who do right are "lovers of God", which is of course defined by the group's leaders.
The meaning of words is kept hidden to the outside world, giving a sense of exclusivity.  And there are "trigger words" which control or affect members. Not only do these words set off "alarm bells" in the member's minds and put them on guard, but also the way words are used repeatedly at meetings and in the group's literature, conditions the way members view people and institutions in this world.
Doctrine Over Person – As members rewrite their own personal history or ignore it, they are simultaneously taught to interpret reality through the group's concepts and ignore their own experiences and feelings as they occur. Members learn to fit themselves into the group's way of life and individuals are valued only as they conform to the group's doctrines and policies.
Doctrine encompasses the entire group experience and is more real and valid than the person and his or her feelings and experiences. The past is to be considered of no consequence and is to be reinterpreted, or forgotten.
A new member's individual potential or identity is subjugated to the group's doctrine. Those who don't conform are considered "deceived by the devil" and "spiritually weak" and driven out by excommunicating and shunning.
The importance of the group is elevated over the importance of the individual in all ways. Along with this comes the importance of the group's ideas and rules over personal beliefs and values.
Dispensing of Existence– The group's totalistic environment emphasizes that the members are part of an elite or special group. Outsiders are considered unworthy or unenlightened. This thinking leads to the belief that the member's whole existence centers on being a member of the group. If you leave, you join nothingness. This is the final step in creating members' dependence on the group.
Members totally and completely believe that the group is "God's organization here on earth" and only within it is "God's Truth" preached. Members willingly alienate themselves from the activities and people in the "devil-controlled world", who are all "deceived and following Satan", and they allow their entire lives to circle around the group and "the end-time Work," which alone gives them their purpose for being born.
To think any other way is to experience intensely uncomfortable feelings of confusion, guilt, fear and alienation. If they leave the group, they believe that they will not only lose "the Truth" and have their minds taken over by Satan, but they will lose the Holy Spirit, lose God, lose their chance for eternal life, and lose their purpose for living. Their existence has become the group.
People who leave the group are singled out as particularly evil, weak, lost or otherwise to be despised or pitied. Rather than being ignored or hidden, they are used as examples of how anyone who leaves will be looked down upon and publicly scorned.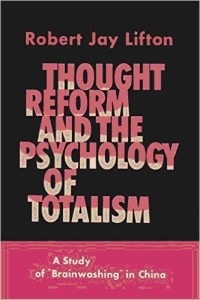 People thus have a constant fear of being cast out, and consequently work hard to be accepted and not be ejected from the group. Outsiders who try to persuade the person to leave are doubly feared.
Dispensation also goes into all aspects of living within the group. Any and all aspects of existence within the group are subject to scrutiny and control. There is no privacy and, ultimately, no free will.
                                                  Additional thoughts by Robert J. Lifton
According to Lifton, it takes only six of the aforementioned psychological themes, or methods, for someone's life to be controlled by an unethical pseudo-religious group. So what do you think? Are Jehovah's Witnesses being psychologically manipulated by Watchtower? You decide.
But for me personally, if it looks like a duck, quacks like a duck and walks like a duck, it must be a …..