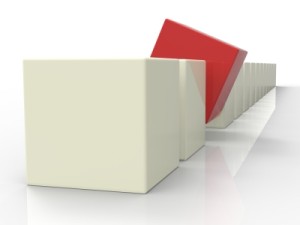 By Richard E. Kelly
Finding and claiming one's repressed authentic identity will not be easy for most adults who were raised as children by Jehovah's Witness parents. First, there's familial undue influence—close family members trying to reshape the child's personality—and then there's the non-familial cult-like identity being imposed upon children by Watchtower's "new personality" policies and apocalyptic beliefs.
However, it can be done and Bonnie Zieman's memoir, Fading Out of the JW Cult, makes a strong case for how it can happen. But what makes her story so special is that the protagonist is an experienced psychotherapist. While sharing her story, she explains the psychological manipulation at play in trying to shape her personality.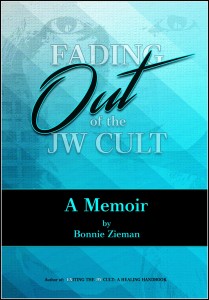 In my opinion, Bonnie's 2016 memoir is a must-read book if you're an ex-JW, in particular if you are a woman, an active JW, you have recently left another high-control cult-like group or anyone who wants to understand how cults (intentionally) and family (mostly well-intentioned) manipulate children and teenagers of members at the grass-roots level.
If David Letterman was reviewing Bonnie's memoir on his Late Night Show, he would normally present ten reasons for why the public should read her book. But because we have familial and non-familial (a cult) at play unduly influencing Bonnie, I have decided to enlarge the list to fifteen. Let's begin with #15:
15. You will meet Bonnie's paternal grandfather, who was the epitome of a true believer, putting his three young sons in an orphanage so he could proselytize the teachings of Charles Taze Russell in eastern Canada. Not a good omen for Bonnie's father (familial) and his potential parenting skills
14. If you did not already know it, Canadian Watchtower executives do love their body massages as Bonnie's young, naïve massage therapist mother discovered.
13. Believe it or not, Armageddon was just around the corner in 1941, but Bonnie's parents ignored Judge Rutherford's warnings not to marry or have children because the end was so close. You will be delighted to learn how they chose to spend their time, instead of preaching doom-and-gloom for non-JW believers at Armageddon.
12. Bribing Bonnie with six sticks of grape gum, then just a very little girl, to go out in the Watchtower Street preaching work will leave you wondering, "What was her mama thinking?"
11. Bonnie's mom could have easily been an accessory to a major crime. But with a little luck, and not Jehovah's invisible hand, "being lucky" saves the day.
10. The story of Bonnie's childhood friend, Bobby, will tear at your heart-strings, an experience that proved to be a significant coming-of-age wake-up call.
9. Bonnie's baptism experience is an indictment of Watchtower's blatant use of undue influence on children by JW parents. You will love Bonnie's mom, but not on this occasion, although it's really the cult's psychological manipulation.
8. If you think that you can trust good, Bible-trained young men to behave on dates, one chapter in her book will definitely change your mind.
7. In a chapter called The Slap, Bonnie and her father awaken to the reality that dysfunction is a major bi-product of Watchtower's culture, although neither of them knew it at the time; the invisible hand of Watchtower at work.
6. A chapter about Bonnie getting married 'properly' according to a died-in-the-wool cult elder in her husband's family could only happen in JW La-la Land.
5. If you have the misguided belief that Watchtower leaders are all kind, loving and benevolent, Bonnie describes a dinner scene with a circuit overseer that should jolt you to your senses. Unfortunately, behind-the scenes behavior like this are not that uncommon because of the nature of Watchtower's pyramid-like culture.
4. If you think Watchtower's long-time VP, Fred Franz, was not crazy, Bonnie will set you straight several times in her book. Fred Franz, I believe, was plighted with a severe case of Asperger's Syndrome, and he was allowed to set policy and prophesy future events for Watchtower without any accountability.
3. When a person leaves Watchtower or any repressive organization, he or she must be prepared to negotiate a long and challenging learning curve if they want to find and claim their authentic identity. Bonnie's book is an excellent road map to show readers how it can be done in spite of massive amounts of misinformation and emotional abuse.
2. For me personally, the total lack of human feelings and emotions (the cult identity) by hard-core true-believers is brought home to roost in chapter 36. While reading this chapter, I was reminded that anyone who chooses to attend and confess at a JW Judicial Committee Meeting should never go alone. A good attorney and someone from the press should be there with them, although if those were the conditions, it could mean the Waterloo for these kinds of Watchtower-style kangaroo courts and sinister undue influence.
1. In Chapter 2, Bonnie tells the story about The Gift, a talk delivered by a District Overseer at a 1978 Montreal convention. It was an unplanned gift, that had it been filmed live and preserved, it would have brought Watchtower to its knees and shown the public how Watchtower psychologically manipulates its members. You can read all about "the gift" and much more in Bonnie Zieman's excellent memoir, Fading Out of the JW Cult.
While I have been accused of being a dreamer, perhaps Bonnie's book will be the first of many salvos that will ultimately alert the public to the sinister use of undue influence by Watchtower leaders and alert JWs themselves to the Watchtower's expectation that they must repress their authentic identity and that of their children.