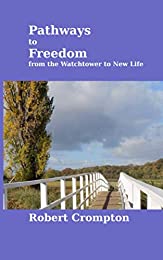 By Joanna Foreman

Robert Crompton is a student of words, and a lover of reading them. In his new book, Pathways to Freedom, he uses a less-is-more technique with words, fully aware that his target audience, ex-JWs is, by this time, familiar with Jehovah's Witness terminology. Devoid of those unnecessary adjectives and adverbs, his book contains less than one-third the number of words in an average novel. One of the most popular and prolific writers of our time, Elmore Leonard, said, "Try to leave out the part that readers tend to skip." Robert Crompton skillfully leaves out the part that former JWs don't need.

I open Crompton's book and feel we are having a friendly conversation. Crompton slips easily from first-person to second-person narrative, asking the reader a question about their own experience, and going on to describe his, always mindful that his is not offered as the best way or only way. His humility emerges clearly when he terms himself a defector. How delightful that he uses the word defector, and not apostate, for himself and others who leave the sect. He selects other choice words such as home ground, transit zone, and Airportland, where you commit yourself to going ahead with your journey, "but you could go back if you really had to," Crompton says, and then repeats: "Really had to."

He continues in the next sentence, "But once you have checked your cases in at the baggage drop, and gone through passport control, that's it. You are on your way. Leaving the Watchtower is very much like that kind of journey." He then asks the reader, "What was the baggage drop/passport point for you out of the Watchtower?" He resumes by relating his own.

While describing his unhurried loss of interest in the religion, he states, "I was a bit of a contradiction as a Special Pioneer. On the one hand I was keen to put in impressively more hours than the quota. On the other hand, I was seduced by the Clydebank Library. What a wonderful place! I began to read avidly, particularly from their fine collection of books on psychology, philosophy and mathematical logic." He admits that within less than a year from his first visit he felt more alive in a public library than in the Kingdom Hall.

Through in-depth reading, the author discovered a new way of seeing the world we live in. He finally reached the point where he could no longer identify as a JW, and he allowed himself to be disfellowshipped, with the full knowledge that his mother and sisters would have nothing more to do with him. That was a half-century ago.

He describes different possible routes from involvement with the Watchtower to eventual freedom, but warns that total freedom from the control which the Watchtower exerts over its members does not come immediately following our final exit from the Kingdom Hall. He offers solid examples of how and why this will happen, has happened to almost all of us as defectors. By now, I've assumed this label as my own, and I like it. He quotes activist Phoebe Willetts when she was released after six months of imprisonment: "I was frightened at coming out, standing there, wondering if I should be able to cross the road by myself."

Crompton adds, "A picture of someone standing at the roadside unable to cross because there was no authority figure to give the instruction has stayed with me all these years." Now, over two decades of my being free of JWs oversight, I can recall that same feeling at the beginning. Insecurity from having no idea what to do next was at a high level.
Crompton offers that we were taught that self-determination was sinful, but now we've been given the freedom that everybody else takes for granted. Depending upon how long we were a part of the cult, our core beliefs and behaviors were formed by the corporate entity of Jehovah's Witnesses. Letting go to find freedom to think for ourselves can feel wrong. The author moves through the book with excellent suggestions and gives reasons for what happened to us on our own journeys.

It is his advice that a defector may well find help by seeking a therapist to work through specific issues. He concludes by offering an email address to contact him if we'd like. I was sad to see this book end, so I started over from the beginning. I highly recommend Pathways to Freedom to anyone who has left the sect, or is contemplating doing so.

Joanna Foreman, Biography: Joanna is a self-proclaimed know-it-all, a label she gladly accepted for the title of her memoir, her personal account of growing up as a Jehovah's Witness. She'd gaily waltzed through the hoops of her mother's religion for half a century. When she left, the exit was abrupt, but nothing she hadn't thought about for years. She hadn't even thought of it as a cult until she was out of it. In fact, she hadn't found it necessary to think as a Witness, letting the sect do all of her thinking for her.
Joanna made up for lost time to find the freedom of thinking for herself. She attended numerous Writing Workshops and has been published in a variety of literary venues. In addition to The Know-it-All Girl, she has written a collection of fictional ghost stories, and a novel, Riverwalk Chameleon. Her work can be found here: The Know-It-All Girl: Foreman, Joanna: 9781942166641: Amazon.com: Books