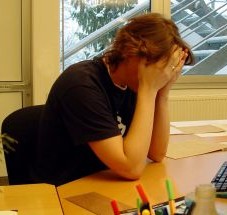 Being a Jehovah's Witness is, as they say, "no walk in the park."
Jehovah's Witnesses live a very stressful lifestyle. While some find comfort and acceptance within the organization, a growing number realize that they are "living a lie." They can not possibly live up to the standards the religion sets for them. Their sex lives are restrictive, they can not carry on normal relationships with non-Jehovah's Witnesses, and they are banned from any contact with former Witnesses – including members of their own families. They have limited options for employment or expanding their education. The Watchtower Society even limits their medical options and choices for professional counseling or treatment.
While many JWs will deny it, most find going to meetings at the Kingdom Hall mind-numbing and a boring waste of time. The "Kingdom" songs are nearly impossible to remember or sing, the prayers are sleep-inducing, and "public talks" (repeated every few weeks in spite of having different titles and speakers) are essentially the same speech with minor changes.
In spite of all of those negatives about being a Jehovah's Witness (and we didn't even mention knocking on stranger's doors or traveling long distances to attend overhyped and underwhelming conventions and assemblies), most will try to convince you that they love the lifestyle and everything about being a part of such an organization.
Unfortunately, the Witness lifestyle creates "cognitive dissonance" within individuals. Trying to enjoy day-to-day existence under such a lifestyle can lead to extreme mental stress and eventual illness. Having to face the constant threat of losing family and friends if they don't live up to current Watchtower standards, choosing to get an education, or accepting a blood transfusion in case of life or death – eats at their insides. They can't talk about any of these issues with anyone else and to do so has unthinkable ramifications.
Life as an ex-JW can be even more stressful. Ex-JWs have to face living within a divided family, loss of self-esteem, fear and regret. Ex-JWs constantly wonder that maybe returning to the religion is the only way to stop their pain. They will find more pain and frustration trying to make up for lost opportunities in education and employment. Others find that they can never really learn to fit in to the larger society.
Steph Le Gardner, an AAWA board advisor and co-editor of AAWA.co, wrote an article for OriginalThots.com that explains how she found a successful process for healing and surviving the Watchtower lifestyle and unique mental pressure. We are pleased to reprint her story here for our readers…
---
Learning Not to Fear the Watchtower Monster
Contributed by: Steph Le Gardener
We fear violence less than our own feelings. Personal, private, solitary pain is more terrifying than what anyone else can inflict. ~ Jim Morrison
The fear Jim Morrison spoke of is a real thing; it can be debilitating to those of us who normally exhibit courageous behavior. I've read a lot of comments lately from former Jehovah's Witnesses who are terrified when JWs come knocking on their door. I remember my own journey through this paralyzing fear–cowering deep within the recesses of my bedroom, bathroom, or closet if I saw them working in my apartment complex, begging my husband to keep them away from me. Even to my own ears this sounds irrational. But, is it?
After doing research on Post Traumatic Stress Disorder, I came to realize that what many of us experience is actually quite understandable. When we go through the excruciating and intrusive exercise of judicial committees where intimate and personal details are pried out of us, or when we are publicly humiliated in front of a congregation of members, or when we are being shunned by our closest family and friends–this is traumatic! We are made to feel guilt and shame for actions that have little or no impact on others in the congregation.
Mayo Clinic says:
Post-traumatic stress disorder (PTSD) is a mental health condition that's triggered by a terrifying event. Symptoms may include flashbacks, nightmares and severe anxiety, as well as uncontrollable thoughts about the event.

Many people who go through traumatic events have difficulty adjusting and coping for a while. But with time and taking care of yourself, such traumatic reactions usually get better. In some cases, though, the symptoms can get worse or last for months or even years. Sometimes they may completely shake up your life. In a case such as this, you may have post-traumatic stress disorder.
In my own case, it took a few years to get over the terror that the Witnesses would come to my door and try to guilt and pressure me into returning to the fold. I didn't feel I was strong enough to resist them, and had recurring JW-themed nightmares for many more years. I didn't know how to stop my reactions, and never shared this with anyone.
About 8 years ago, I began searching online for JW info, trying to find stories of other former members who would understand my personal experience. It was about this time I found the newly formed ex-Jehovah's Witness Recovery Group on MySpace (now on Facebook). While I had done a lot of personal recovery up until this point, I was stunned at the connection I felt with the folks there. Being a natural extrovert, I immediately began sharing my story and listening to others. What I didn't realize was that this was the missing piece to my own recovery–realizing that the boogeyman (the Watchtower) was no longer in control, and that I WAS NOT ALONE!
I began pouring my fears and feelings into poetry since there was so much emotion that was now surfacing. My anxieties and fears were right in my face…but, now I had other folks that could understand. We shared our triumphs and struggles.
During this short period of time (about 4 months) I stopped having those nightmares. Talk about a relief! I began facing my fears head on (with my new friends at my side) and it was liberating. To be honest, even with the majority of my fears at bay, I still get butterflies in my stomach when they come to my door. But, I no longer hide away. I know now that they cannot hurt me any more than they already have. I realize that at some point they could be walking the same journey as me, which allows me to have some measure of compassion for them. I do not, however, let them intimidate, guilt, or shame me any longer.
To this day I've been an active member of the recovery group. It serves as a reminder of how far I've come, but more importantly, I'm able to share tips and tricks to help others remove this fear from their lives a little faster. It's a wonderful thing to have groups out there that provide emotional support while dealing with the monster that is the Watchtower. If one group doesn't fit your needs, keep looking. Additionally, I highly encourage former Witnesses to find a good counselor, particularly one trained in cult or religious trauma. Dealing with the emotional upheaval early on will give you a leg up in your own recovery.
Source:http://www.mayoclinic.org/diseases-conditions/post-traumatic-stress-disorder/basics/definition/con-20022540
Reposted with permission from Steph Le Gardener. Original blog can be found at
OriginalThots.com
.
---
Photo credit (featured image): "The Stress!!!!" – Carl Dwyer, Germany