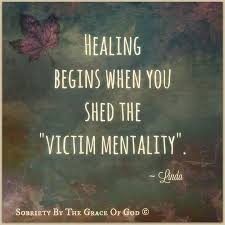 I often ask former JWs if they know what group is worse than Jehovah's Witnesses. It generally takes two or three guesses before the person gives up. When I tell them it is: ex-Jehovah's Witnesses, they smile and appear to get it.
Why is that?
Because many ex-JWs are hopelessly stuck in the victim mode, even many long years after they have left the black-and-white world. They spend way too much time playing the "whose fault it is" game, instead of taking responsibility. What are they going to do about the reality that they have been in a cult, yes, in a long-term abusive relationship?
It's not always easy and many ex-JWs would benefit from time well-spent with a qualified therapist or counselor, who understands how cults unduly influence its members. A good reminder to the fact that it is our responsibility, the following short-and-sweet video by Will Smith is a classic wake-up call.
https://www.facebook.com/Ashton/videos/10154941131162820/UzpfSTEyNTYzNzI2MzE6MTAyMTI0MjU1Nzk2MTUzMzA/