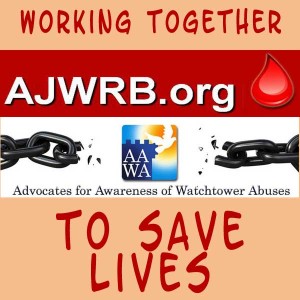 Contributed by: Marc Latham
Cora and I have never felt better about a visit to the hospital than we did on Friday, March 28, 2014. It wasn't a routine health checkup for sure, but rather a presentation that, with Cora's help, I made at the London Royal Hospital. Actually, it happened right in the center of the Emergency Department within a seminar room. Our audience included attentive groups of doctors, nurses and trauma specialists.
Cora and I were there as representatives for both AAWA and AJWRB (Associated Jehovah's Witnesses for Reform on Blood). Our objective was to share some much-needed information about the secretive world of the Watchtower Society.
We were not the first ones to speak. In fact, my presentation followed a speech by a member of the Watchtower's Hospital Liaison Committee ("HLC") titled: "Jehovah's Witnesses and Blood. What to do?"
We were still travelling to London when the Watchtower representatives were giving their talk. The HLC speaker was long gone before we entered the seminar room.
In my introduction, I asked the audience to think about the "Advanced Medical Directive" and to consider whether "undue influence" could ever play a role in the interference with and subsequent autonomy of any decisions made by an individual.
I then explained how the use of repetitive indoctrination teaches JWs from birth that to even consider having a blood transfusion would be incomprehensible "to anyone who really loved Jehovah God." Yes, that would be the mindset for all JWs should they ever be confronted by a medical clinician informing them that they might need some type of blood treatment.
I reported that the blood ban for JWs did not begin until 1945. The ban includes the four primary parts of blood: red cells, white cells, platelets and plasma. A timeline of the history of the Watchtower's blood policy is available at this link.
I wanted the staff to understand that JWs see the blood transfusion issue as one of their "sacred cows." They will refuse to discuss with anyone the pros, cons or multiple changes to the Watchtower's blood policy during the past seventy years. Even a simple, innocent question such as, "Why are white cells prohibited by Watchtower when it's common knowledge that a mother passes white blood cells to her baby in her breast milk?" would be a no-no. Anyone asking that type of question would be rebuked and told, "That's apostate thinking." Someone associated with Jehovah's Witnesses who persisted in asking those kinds of questions would likely be excommunicated.
I stressed to my audience that when individual JWs are under pressure to decide to accept some form of blood treatment, they also have to consider the advice given them by the brothers representing the HLC. Other JWs will also try to influence them as they continue toward a final decision of "Will I? Or won't I?"
I also informed my audience about the concessions made in 2000 by the Watchtower Society in the "Bulgaria Compromise." That was when it became public knowledge that blood fractions had been sporadically used and approved by the Watchtower for decades – a fact known by only a few JWs. The "compromise" evolved into replacing "disfellowshipping for unrepentant blood use" with a "unilateral act of disassociation." That is a form of discipline similar to the way the Watchtower would treat a JW who joined the military.
I then discussed the obvious questions that arise when fractions could be used – and yet the primary four are still forbidden. Percentages of certain fractions are also considered and compared with the primary four. Those details lead to further confusion and illogical conclusions.
I shared a 1994 Awake! magazine that glorified the deaths of children "Who put god first" by rejecting blood transfusions.
I encouraged my audience to have questions ready for their JW patients when they arrived in the hospital. They should design their questions not to coerce, but to kindly ask the patient whether they feel they are duly competent to make the life-changing decisions they may face.
I stressed to the medical staff that most JW patients will have little knowledge, if any, about the Watchtower's blood components guidelines.
I shared secret letters from the Body of Elders, highlighting their use of undue influence. That includes pressure put on parents to indoctrinate their children to firmly resolve never to have blood. I exposed the way the Watchtower encourages parents to inculcate into their children the need to remain firm and always say "no" to blood – even if it might mean their death. This was another example of the Watchtower's undue influence at work.
I exposed the truth about "confidentiality" and how Watchtower and congregations invariably get past those rules to learn what happened with individual JW patients. The congregation is always looking for answers and putting themselves in a position to approve whatever personal choices the patient might be making. Just another example of "undue influence."
Using the Watchtower's Shepherd the Flock of God book, I showed that JWs are still being punished for having transfusions. I felt this was important for the medical staff to know, as they will be responsible for asking patients about potentially urgent need for blood treatment.
I then held a Q & A session with the staff. We talked about "shunning" and why this is very real issue facing Jehovah's Witnesses. In the past the Watchtower banned vaccinations, organ transplants and blood fractions – and many lives were needlessly lost – but now allows those medical procedures. As recently as the 1960s, Jehovah's Witnesses would have been disfellowshipped for accepting blood fractions that are now approved!
I also provided some practical questions that the medical staff could use when dealing with JW patients. How could they get JWs to raise questions about their own competence and understanding? How could they get JWs to wonder about their own knowledge and ask, "Do I have adequate information about what I am doing?"
I told the medical authorities to look up the AAWA.co and AJWRB.org websites to find additional medical information about the blood issue. The information on those sites will help them when they have to face and confide with patients about medical choices. We also discussed the involvement of HLCs. I explained how they will often disclose medical information to the very elders who may later hold a Judicial Hearing for their JW patient.
After I gave my talk, it was clear that the staff wanted to know more about why JWs are under such undue influence. I hope that my talk that day will be the first of many. We will strive to help the medical community to understand exactly how the high-control religion of Jehovah's Witnesses uses undue influence on an individual's right to choose autonomously.
Cora and Marc describe their experiences at the hospital…

Marc Latham's presentation at the London Hospital…

Cora took this video of Marc during their drive home after the hospital meeting, as he describes his feelings…

Attached are links that provide more material about the Watchtower's flawed blood policy. They can used if someone gets an opportunity to talk directly to hospital staff.
http://ajwrb.org/do-jehovahs-witnesses-really-abstain-from-blood
http://ajwrb.org/wp-content/uploads/2014/03/abstain1.pdf
http://ajwrb.org/wp-content/uploads/2014/03/WhySomeAccept.pdf
http://ajwrb.org/wp-content/uploads/2014/03/KM_School_Handout_on_Blood_2010.pdf
Marc and his wife Cora live in the Midlands of the UK. They are known for taking an active and informed stand against abusive Watchtower policies through their YouTube Channel. They are now in a dialogue with British government authorities to effectively expose Watchtower violations of the UK's Child Safeguarding Policy. In addition to their latest educational efforts regarding the blood policy, they also speak out against Watchtower's failure to deal with domestic abuse and the use of extreme shunning to discourage and eliminate individual choice.