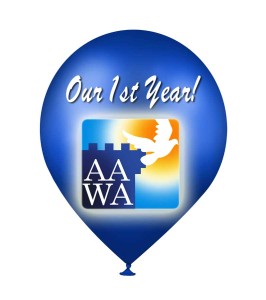 Over a year ago, a group of compassionate and caring people began discussing the possibility of setting up a not-for-profit organization that would shine the bright light of truth on the Watchtower Society's most harmful policies.
Their organization would focus on policies that violate the basic human rights of Jehovah's Witnesses. They would emphasize the protection of children and women relating to physical and sexual abuse – as well as from other forms of domestic violence.
That in itself was a lofty goal. But they also decided that they would not overlook the Watchtower's prohibition on the medical use of blood, their over use of extreme shunning, or their ongoing resistance to post-secondary education for JW children or adults trying to improve their skills and personal income.
They knew they could not just focus on creating awareness about these unjust policies. They wanted to extend themselves and actually reach out and help ex-JWs and their families who had experienced abuse due to these Watchtower policies. They agreed to add a support element into this educational organization they created in April 2013.
They understood that creating awareness would not succeed if they only directed their efforts toward Jehovah's Witnesses (although many Witnesses have responded positively to the message). Their message wouldn't be intended for members of the ex-Witness community either, because most of them are already aware and understand these issues.
So they decided that their new group, Advocates for Awareness of Watchtower Abuses (AAWA), should tell the non-Jehovah's Witness world about these problems. AAWA wanted to let the public know that:
The Watchtower has been hiding the physical and sexual abuse of women and children within their organization for decades.
Watchtower policies on blood transfusions are incomprehensible and often changing – resulting in a substantial number of needless deaths over the past 70 years for both children and adult JWs.
The Watchtower's expanded use of their unconscionable "shunning" policy has resulted in hundreds of suicides. Why? Often they've been due to the inhumane treatment former members experience because they choose to leave on their own or are excommunicated for breaking one of the many unreasonable rules that Witnesses must follow.

Few Witnesses (except for adult converts) had ever been or would go to college or university. For decades the Watchtower has told them not to "waste their time in those worldly pursuits."
Even though they experienced a few bumps along the way, with the help they received from hundreds of volunteers AAWA was able to create a series of videos, flyers and op-ed pieces for the media. Looking back, those were remarkable accomplishments considering many of us had never before met or corresponded – nor were we even aware of each other.
I want to thank each one of our volunteers for the fabulous work they have done. I want to personally thank all the writers, artists, videographers and editors, members of our support team – and even those who just sent us their ideas or personal stories. I am in awe of all you for what you have helped us to accomplish this past year. Congratulations to all of you for your hard work and personal dedication.
We know that we aren't done yet. We still have other issues that we want to tackle. Blood, education and domestic violence will still be on our radar. We know that we have a few mountains to climb and with your help we will get over and past them. In the meantime, we have some real surprises ahead for our readers and supporters.
April 2014, being our first anniversary, we are giving YOU a gift. We are opening our first Facebook discussion forum. The new discussion forum is multifaceted and is designed to provide:
An open area where you can discuss all things related to the Watchtower Society
Other areas where you can contribute your own ideas and give us feedback on ours
A safe place you can discuss personal issues and the harm done to you or your family
A more private place for people who need to talk directly to someone on the AAWA Support team
We hope that you will be as excited about this new forum as we are. It will be accessible from both Facebook and directly from the AAWA.co website. If you already have a Facebook account, there will be no need to register separately – you can simply ask us to add you to the group. If you need privacy from your lurking Witness family members or others, please set up a second Facebook account and use a name they would not recognize.
If you do not have a Facebook account, you will need to register with Facebook. Again, if you are at all concerned about lurking Witnesses, then please set up an account using a name they would not recognize. Do not post your picture or post enough information that would easily identify who you are. We must emphasize that THIS IS AN OPEN FORUM except for certain specific areas that will be private.
This new forum will replace the existing discussion forum that now exists on the AAWA.co website. My apologies to those who are not comfortable with Facebook. We will do our best to provide a safe environment for you. I invite you to join us. Please contact me if you would prefer other options.
So Happy Anniversary! to all of YOU who have helped AAWA educate the world community about Watchtower injustices during the past year. We know that our group will only be as good as those valuable and willing volunteers who have committed themselves to our mission.