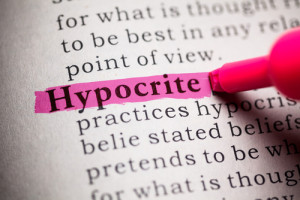 How many times have you heard the scripture quoted that says we must "love our neighbor as ourselves?"
It's one of those scriptures that most people have heard regardless of their religious affiliation. It's one of those verses that goes hand in hand with the Gospels' "Golden Rule" to "do unto others as you would have done to you"—a teaching common to many traditions.
In this vein, a recent Watchtower article about "loving one's neighbor" referenced the scripture at 1 Corinthians 13:4-8, which defines "love" that went on to state:
Just as God has shown patience and kindness in dealing with imperfect humans, we must be patient and kind when others make mistakes and are thoughtless, or even rude.
The article continued:
Genuine love is not easily provoked and "does not keep account of the injury," as though we were making entries in a ledger when others do something unloving.
It closed with this comment:
If someone offends us but asks for forgiveness, love moves us to forgive him.[foot]The Watchtower – 2014, w14 6/15 pp. 17-21, "You Must Love Your Neighbor as Yourself"[/foot]
However, this explanation of what "love" is flies in the face of their extreme shunning policy. They claim that their disfellowshipping arrangement is an act of love. But how can it be "love" if people are injured by it? Where is the patience, kindness, and forgiveness? How many times do we hear of former members who were judged harshly, unfairly, or even harassed into making declarations of guilt?
Some, like me, refused to attend a judicial committee and were notified that they were cut off from family and friends via registered letter. Like an axe fall, their family ties were severed. This is love???
In 2004, there was a question from a reader of the Awake! magazine (another Watch Tower Society publication) in which the reader questioned the use of the term "unconditional love" used in a previous article. The writers replied, "The phrase 'unconditional love' was used to suggest that parents should not imply that their love for their children is fragile or tenuous—that it might be withdrawn at any moment because of some failing on the child's part or that the child is obliged to earn parental love by doing everything just right."[foot]Awake!—2004, g04 2/8 p. 30[/foot]
Yet, is this not exactly what families do when they cut off a loved one in their family due to outside pressure from church policy enforcers? They make it clear that their love IS fragile and tenuous.
If you've ever wondered what kind of influence and pressure Jehovah's Witnesses are under to shun their own family members, take a few minutes to watch and listen to the following video of a talk given by Watch Tower Society representative Steven Bell.[foot]Video by John Cedars, JWSurvey.org [/foot] If this is love…
Psychology Today refers to shunning as "silent bullying."[foot]http://www.psychologytoday.com/blog/the-time-cure/201302/shunning-the-ultimate-rejection[/foot]  Anthropologist Janice Harper elaborates in another article, stating,
"To targets of shunning, the near instantaneous isolation almost always comes as a shock, and the intensifying silence that encircles them is indeed deadly. The impact of shunning is so severe that those religions, organizations and families which routinely employ it, do so because they know just how effective a form of social control the practice can be, debilitating even the strongest people once it commences."
Harper goes on to say,
"To survive as humans, we must rely on social support, and when we withdraw that support on the basis of unpopularity we might advance our own social survival, but we erode our own capacity for compassion and our own potential to be fully human and humane. Whether we shun someone professionally in the name of professionalism, in our religious institutions in the name of God, or in our own families in the name of pride, we lessen ourselves, our spirits and our humanity. Silence is not always golden; it is deadly when it extends to shunning…."[foot]http://www.huffingtonpost.com/janice-harper/a-reason-and-season-to-st_b_1146103.html[/foot]
If this is love. . .
Jehovah's Witnesses need to ask themselves why the Watchtower's teachings and publications seem to have double standards when defining "love." The public needs to ask why it turns a blind eye to this silent bullying that is happening all around the world in high control groups. Some day soon I hope we can agree to treat each other with mutual respect and compassion, helping instead of harming our fellow humans.
The Dalai Lama once said,
"Love and compassion are necessities, not luxuries. Without them humanity cannot survive."