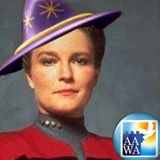 While it may seem that things have slowed down a bit on the AAWA front, I can assure you that we have definitely not been idle. Let me share just a few examples:
We have made some excellent networking connections with other successful non-profit action groups;
Heard, listened to and acted on some very good ideas from our volunteers; and
Came up with and began implementing a well-thought out plan of action for the next six months.
Mickey Hudson's update on AAWA's recent successes and future projects…


Not only that, but more people are reaching out to AAWA asking for help, looking for answers and searching for information. The willingness of our volunteers to step forward and freely provide needed support to those asking for special assistance makes me proud to be associated with and a part of this international educational organization. At the risk of sounding overly optimistic, it feels like history in the making and it's nice to know we may have a small part in this chapter of history.
AAWA just completed and released a critically acclaimed video on Stopping Child Abuse. That will soon be followed with an Op-Ed story on what can be done to stop cover-ups. We'll keep you posted on that new project.
---
Links referred to in the above video:
http://childfriendlyfaith.org/
http://www.snapnetwork.org/
http://www.presstelegram.com/social-affairs/20130829/jehovahs-witnesses-bring-millions-of-dollars-to-long-beach
https://www.facebook.com/danmera.dinglebum