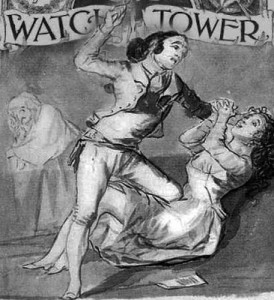 You may find it difficult to imagine that in these modern times that anyone could believe that a wife, "a lowly woman," should be subservient to an abusive husband. Not only that, but should he decide to do her bodily harm, would any reasonable person suggest that she should "shine God's love on him" by humbly taking whatever he dishes out – and do it without complaint? Can you imagine that observers would justify his actions by suggesting "it was likely her fault because she probably did something to provoke his anger…"?
Anyone with critical thinking skills would find that notion to be totally absurd – especially now that we are well into the 21st Century. Unfortunately, the reality is that this is precisely what the Watchtower Society admonishes over 7 million Jehovah's Witnesses to do in these situations.
No one has articulated the absurdity of that notion better than Mickey Hudson. Using her pseudonym "Danmera," Mickey created a classic YouTube video that capsizes any thoughts that this horrendous Watchtower policy has the best interests of its members in mind, or that justification for such abuse would be supported by any reasonable secular or religious standards.

We dare you to watch this video and not feel outrage. "Danmera" speaks from her heart and willingly shares her own personal experiences. You'll understand why she has intimate and specific knowledge about the Watchtower's flawed policy on dealing with domestic violence. Like many Jehovah's Witnesses, she was both a victim of domestic violence and Watchtower policy.
A recent viewer of this video left this comment: "You cannot help but well up with emotion and cry when you watch and listen to this video; it definitely hit home for me!"
You'll note that there are pauses during the video when Danmera gets very emotional. And yet she stays on track by showing how the Watchtower damages its own credibility by supporting and enforcing these ridiculous policies.
Mickey produced this video in 2012. Even now, as 2014 approaches and politicians and activist groups continue their fight to expand and protect women's rights worldwide, the Watchtower continues to embrace the wrong side of the domestic violence debate.
Please note: The following videos discuss very adult subjects using occasional strong and descriptive language.
"Danmera" (Mickey Hudson) describes how the Watchtower deals with reports of domestic violence…

In a followup video, Danmera responded to some of the comments she received…