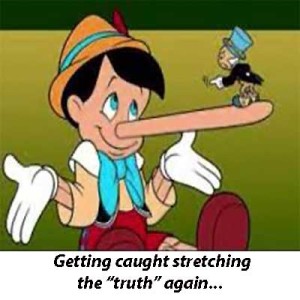 By Richard E. Kelly
Jehovah's Witnesses often refer to themselves as having "The Truth" – but they also believe that it is okay – and even appropriate at times – to actually not tell the truth. It just depends on who they are sharing that "truth" with.
One of those Jehovah's Witnesses knocked on my mama's door when I was four years old. Six months later, Mama was baptized and a dyed-in-the-wool believer and already teaching my siblings and me the loaded language that earmarks the cult-like life of good Jehovah's Witnesses, or any cult for that matter.
As JWs, we believed that we were the only group with the truth. Anyone who did not believe as we did were worldly people. We were called "publishers" if we went regularly in the field service. By the time I reached the age of ten, I knew what theocratic warfare meant. Mama was particularly adept at explaining how this strategy worked when it was needed, as using it somehow proved we really loved Jehovah.
Mama was especially proud of me one day. It happened after I picked up the phone. The caller was trying to find Mama, as she had been putting some crazy ideas into his wife's head during their weekly bible study. He asked in a very aggressive tone if my mother was a Jehovah's Witness. Prepped in advance, I responded with, "A Jehovah who?" He quickly put down the phone.
Mama praised me up and down and told all of her JW friends about my quick thinking. That, she said, was theocratic warfare in action. Deceiving and lying were tools we could use so as not to bring reproach upon Jehovah's name and His Organization.
When I lived at Bethel between 1962 and 1964, I knew what theocratic warfare meant at the governance level of the Watchtower Society. The Watchtower's vice president, Fred Franz, was particularly good at pointing out his skills in this area. "Yes, we have the truth, but it was okay to not always tell the truth when dealing with worldly people."
So when I heard the head of Watchtower's legal department in Australia, Vincent Toole, respond to whether he was aware of the theocratic warfare doctrine, I was not surprised at his reply. His very misleading response was, "Well, I've heard the expression, but I'm not really sure what it means."
However, times are changing and one of those worldly people, Trey Bundy, is now publicly reporting (very well I might add) about this appalling practice. In fact, Trey's September 23 article in REVEAL is a must read. You can access it at: https://www.revealnews.org/article/jehovahs-witnesses-can-hide-the-truth-in-court-to-protect-religion/ (Volunteer Guy Jolly has been kind enough to translate Trey's article into French, which can be downloaded here: TJ Cachent vérité )
Trey Bundy is one of those exceptional journalists who gets it and is not afraid to write about it. I have attached links to other articles and broadcasts that he has written and shared about Watchtower polices that violate basic human rights.
Text: http://www.revealnews.org/article/jehovahs-witnesses-use-1st-amendment-to-hide-child-sex-abuse-claims/
PBS News Hour television segment: http://www.revealnews.org/article/are-jehovahs-witnesses-covering-up-child-abuse/
National radio broadcast: http://www.revealnews.org/episodes/the-secrets-of-church-state-and-business/
Text: https://www.revealnews.org/article/jehovahs-witnesses-cover-up-child-sex-abuse-and-oust-a-victim/
Text: https://www.revealnews.org/article/she-spoke-about-jehovahs-witness-abuse-and-her-home-was-vandalized/
Radio: https://www.revealnews.org/episodes/one-thing-leads-to-another/#segment-shunned-and-shamed-by-jehovahs-witnesses
Follow up on the governing body's response: http://www.revealnews.org/article/jehovahs-witness-leader-says-child-sex-abuse-claims-are-lies/
Follow up on the Candace Conti Appeal: https://www.revealnews.org/article/california-court-guts-child-abuse-ruling-against-jehovahs-witnesses/
Who are the Jehovah's Witnesses? : https://www.revealnews.org/article/what-you-dont-know-about-jehovahs-witnesses/