Contributed by: Ruben Ortiz
"An apostate walks into Bethel…"

Nope –
that is not a joke
.
During his recent visit to the United States on March 21, 2014, Bo Juel Jensen brazenly walked into the Watchtower's headquarters in Brooklyn Heights, New York and obtained a copy of the large version of the new New World Translation.
When Bo was also offered a Bible study by one of Bethel's workers, he respectfully informed him that he was a principal volunteer with AAWA (Advocates for Awareness of Watchtower Abuses), even handing him his AAWA business card. The look he received from the Bethelite is priceless.
Sometimes people leave the Watchtower, but still fear them. Bo reminds us: "What is there to fear? One reason the Watchtower tells Jehovah's Witnesses to shun ex-JWs is because they know that we know what's hiding behind their Wizard-of-Oz-like curtain. The Watchtower Society wants to continue to keep that hidden from their members."
If you are an ex-JW – or a former member of another religious cult – this is something to seriously ponder, especially if you ever experience that same knee-jerk reaction many people feel due to the undue influence they were living under at one time.
We are fortunate that we have pictures and a video of Bo's experience because he wasn't alone when he walked into the Watchtower's headquarters building. He was accompanied by Gregorio Smith, the filmmaker for the movie "Truth Be Told" – an eye-opening documentary designed to educate non-JWs about what it is like growing up in the Jehovah's Witness religion.
When I asked Bo how he felt watching a hard-core JW believer at the Watchtower's world headquarters look at his AAWA business card, he laughed.
"It was kind of weird. But at the same time I had this great feeling. Gregorio was guarding my back, and with a bodyguard and cameraman like him nothing could go wrong. But the look on the guy's face when he got the AAWA card was priceless…like 'Ouch! And I thought I was the one who tried to trick you…' "
They got a photo and a reaction that Gregorio and Bo will never forget.
Several hours later, when I asked Bo to let me see what his "apostafied" Silver Sword Bible and AAWA business card looked like together, here is what he showed me:
Bo and Gregorio had an adventure that will become an inspirational story for others like me. Many of us still see ex-JWs who are unable to rid themselves of their deep-seated fear of the Watchtower Society. Some have JW family and former friends who zealously champion and practice extreme shunning as a "loving act mandated by their God, Jehovah."
But there is more to like about this story because it was not a planned event.
Richard Kelly was showing Bo and Gregorio the location of his Bethel experiences and where he walked away from it all fifty years before. Surprisingly, Bo said, "I don't know about you guys, but I want to see what the inside of the Watchtower's headquarters looks and smells like."
As Bo started walking up the stairs, Gregorio said, "Wait, Bo! I'm going with you." Almost seamlessly, Gregorio handed his large camera to Richard and then bolted up the concrete stairway with Bo.
For ten minutes Richard anxiously waited while nonchalantly watching visiting JWs come and go. He expected that he would soon see his two "apostate" friends escorted out of the Tower's headquarters.
When Bo and Gregorio walked out, they were both wearing huge victory smiles and had a story for the ages to share. Bo was also proudly waving his personal copy of the "Silver Sword" Bible back and forth for all the world to see. Richard described the emotionally charged experience this way:
"I don't ever recall being so thrilled, so happy, and so proud of two people than I was at that moment, particularly when Gregorio and Bo started filling me in with the details—especially the part about the 'Silver Sword' being a freebie."
Bo, Gregorio, and Richard clearly had the best seats in the house for this once-in-a-lifetime happening. But I think the following video produced by Gregorio will give you a audio-visual experience of the event that will come in a close second. I hope you enjoy it as much as I did.

You can visit the official "Truth Be Told" website at www.hereliesthetruth.com
In closing, I would like to steal some sage advice from quotes by both Franklin D.Roosevelt and John F. Kennedy, but offer it with my own small twist:
"The only thing we have to fear is fear itself – unless you are the Watchtower, which has not yet been held accountable for its violations of basic human rights."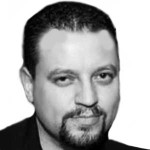 About Ruben Ortiz
A proud and compassionate ex-JW, Ruben has helped thousands of people exit from their toxic JW experiences primarily through his well-managed ex-JW recovery groups on Facebook. He lives in the northeastern part of the United States where he works for the Job Corps helping graduates find needed jobs, housing and education.