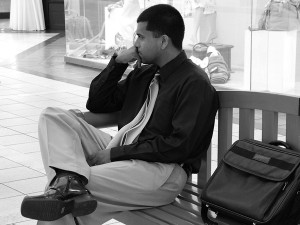 The Watchtower instructs Jehovah's Witnesses to disfellowship and shun members deemed "wicked."
"Disfellowship: To "remove the wicked man" or woman from the congregation." Watchtower 2011 Jul 15 p.23

"Thus 'disfellowshiping' is what Jehovah's Witnesses appropriately call the expelling and subsequent shunning of such an unrepentant wrongdoer." Watchtower;1981 Sep 15 p.22
Disfellowshipped members are judged to have unrepentantly committed any of a set of prescribed infringements, such as fornication or smoking. They might even be someone who merely disagrees with Watchtower doctrine openly.
Even family members must not speak to a disfellowshipped person under almost any circumstance.
"Really, what your beloved family member needs to see is your resolute stance to put Jehovah above everything else – including the family bond. … Do not look for excuses to associate with a disfellowshipped family member, for example, through e-mail." Watchtower 2013 Jan 15 p.16

"… a simple "Hello" to someone can be the first step that develops into a conversation and maybe even a friendship. Would we want to take that first step with a disfellowshiped person?" Watchtower 1981 Sep 15 p.25
This is justified on the basis that if a person is disfellowshipped, they must be wicked.
Unscriptural
The term disfellowship does not appear in the Bible and the current Watchtower doctrine is derived from selective misapplication of Scripture.
Watchtower maintains that Jesus should be our perfect role model when it comes to how we treat others. And yet there is no record of Jesus shunning anyone. If anything, he was renowned for speaking to all kinds of people, including sinners. Jesus' advice on such matters was based on principles of love, where he instructed his followers not to judge, but rather to be loving and merciful to all.
Luke 6:27-37 But I say to YOU who are listening, Continue to love YOUR enemies, to do good to those hating YOU … Continue becoming merciful, just as YOUR Father is merciful. Moreover, stop judging, and YOU will by no means be judged; and stop condemning, and YOU will by no means be condemned."
Originally, the Watchtower followed these principles, and if a person was deemed to be engaged in wrongdoing, the person was not shunned, but treated in a "kindly, courteous way in which it would be proper for us to treat any publican or Gentile, withholding the special rights or privileges or greetings or voting opportunities that belong to the church as a class separate from the world." (w1919 51 p.69) The current practice of disfellowshipping was not instigated until the 1950's, and as late as 1947 excommunication was described as a pagan means for church leaders to gain tyrannical power. (g47 1/8 p.27)
Watchtower now ignores Christ's example, not to mention their own historical teachings, and chooses to emphasize two Scriptures, 1 Corinthians 5:11 and 2 John 10. Whilst these passages show a basis for limiting association with wrongdoers, the Watchtower application goes well beyond what is written.
1 Corinthians 5:11 "But now I am writing YOU to quit mixing in company with anyone called a brother that is a fornicator or a greedy person or an idolater or a reviler or a drunkard or an extortioner, not even eating with such a man. For what do I have to do with judging those outside? Do YOU not judge those inside, while God judges those outside? Remove the wicked [man] from among yourselves."
At 1 Corinthians 5, Paul did not demand strict shunning. Rather, he advised not to socialise with a person claiming to be a brother who is practicing wrongdoing. If the person is no longer engaged in the wrongdoing or no longer identifies himself (or herself) as "a brother," then this passage should no longer apply. 1 Corinthians 5 does not say to completely shun a person, nor does it indicate application to immediate family members. Furthermore, it is only applied to six specific practices. The Watchtower has extended this list to over 30 offences, including practices never condemned in the Bible, such as smoking, gambling, and receiving a blood transfusion.
The second scripture the Watchtower frequently draws on is 2 John.
2 John 7 -11 "For many deceivers have gone forth into the world, persons not confessing Jesus Christ as coming in the flesh. This is the deceiver and the antichrist. Look out for yourselves, that YOU do not lose the things we have worked to produce, but that YOU may obtain a full reward. Everyone that pushes ahead and does not remain in the teaching of the Christ does not have God. He that does remain in this teaching is the one that has both the Father and the Son. If anyone comes to YOU and does not bring this teaching, never receive him into YOUR homes or say a greeting to him. For he that says a greeting to him is a sharer in his wicked works."
The Watchtower decree to not say "a simple 'Hello'" (w81 9/15 p.25) is based on a misapplication of this passage, since 2 John 10 is discussing the Antichrist.
Not only does the Watchtower extend its application of 1 Corinthians 5 and 2 John well beyond their intended meaning, it has also created a legislative process without Scriptural support. People that have been through a judicial committee regularly describe it as a star chamber, as the accused sits in a secret meeting before a minimum of three elders. The accused is forbidden to bring witnesses, to record the proceedings or to have legal representation, and is often asked to discuss the accusation of wrongdoing in intimate detail.
Unethical
"If no one turned around when we entered, answered when we spoke, or minded what we did, but if every person we met 'cut us dead' and acted as if we were nonexistent things, a kind of rage and impotent despair would before long well up in us, from which the cruellest bodily torture would be a relief; for these would make us feel that, however bad might be our plight, we had not sunk to such a depth as to be unworthy of attention at all." (The Principles of Psychology Volume 1 pp.293-4 William James Dover Publications)
Human beings need the love and affection of their families. Social psychologists have discovered that within five minutes of ostracism, basic human needs are threatened.[1] If this can happen in five minutes, imagine the torment inflicted on a person when they are shunned day after day, year after year, without so much as an email or text message.
Being disfellowshipped causes serious emotional side effects. Those that believe Watchtower doctrine are told that whilst disfellowshipped they are condemned to everlasting destruction. To be reinstated, they are expected to attend Watchtower meetings regularly for at least six months, sitting at the back of the hall and being ignored by everyone there. Those who become unbelievers, with no intention of returning to the Watchtower Society, realize they are unlikely to freely associate with Witness family and friends for the remainder of their lives.
It is therefore with good reason that Steven Hassan, in Combating Cult Mind Control[2] advises on the first question a person should ask before joining any controversial group:
"Does your group impose restrictions on communicating with former members? This is one of the most revealing sets of questions you can ask any cult member. Any legitimate organization would never discourage contact with former members."
Why it must be stopped
Disfellowshipping is not an insignificant issue. Figures supplied in the Watchtower indicate that 1% of Jehovah's Witnesses are disfellowshipped each year[3] and only one third return.[4] On that basis, there are over one million people currently in a disfellowshipped state. Almost all of the seven million active Witnesses are also affected, as most have friends or relatives they are expected to shun.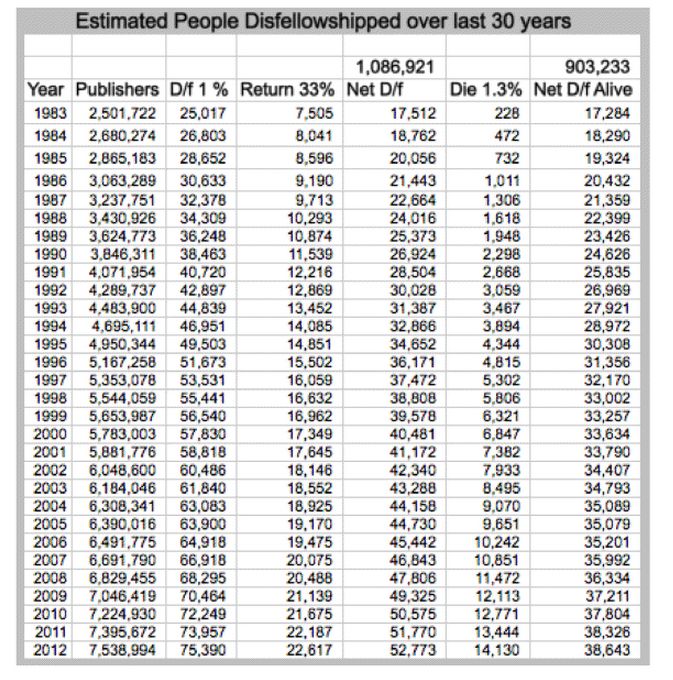 Although Jehovah's Witnesses are not the only religion to impose shunning, the Watchtower regulations are among the most extreme, and quite possibly affect the highest number of individuals.
The United Nations recognises the importance of the family unit to society and as being a fundamental human right. The United Nations Universal Declaration of Human Rights, Article 12 states:
"No one shall be subjected to arbitrary interference with his privacy, family, home or correspondence, nor to attacks upon his honour and reputation."
It is time for governments to acknowledge that shunning is an illegal violation of important human rights, and for these to take appropriate action against religious groups that insist on enforcing this evil practice.
Further Reading
For an in-depth discussion on disfellowshipping, see jwfacts.com/shun.
---
Footnotes
[1] Williams, K., & Carter-Sowel, A. (2007). Ostracism. In R. Baumeister, & K. Vohs (Eds.), Encyclopedia of social psychology. (pp.642-644). Thousand Oaks, CA: SAGE Publications, Inc. doi: 10.4135/9781412956253.n384
[2] Park Street Press 1990, page 109
[3] "In recent years disfellowshippings worldwide have been approximately 1 percent of publishers." Watchtower 1992 Jul 1 p.19
[4] Statistics provided in Watchtower 1974 Aug 1 p. 466 and Watchtower 1960 Dec 1 p.728 indicate that roughly only 1/3 return.
Shortlink for this article: http://wp.me/p3rSMO-7Q