Hope and connection brought people together around the globe on July 26, 2014. Organized through Facebook, the day became one to remember and quite unlike any other, marked from sunrise to sunset with tributes and respectful activism taking place in significant public and private locations.
It was a day that saw individuals of all ages who have been shunned and ostracised by their Jehovah's Witness families make themselves visible in dignified, loving and purposeful ways. Several actually took flowers and cards to places where they had in the past experienced rejection and pain. Many memorialized the moment by taking photos and sharing their personal experiences where everything connected with the day began – the Facebook page "Watchtower Victims Memorial Day."

AAWA acknowledges their courage. We celebrate the brave actions of so many former Jehovah's Witnesses and those who supported them – including their friends, husbands, wives, children and partners. The cards, videos, photos, songs, testimonials and flowers are simple but effective tributes to these people. They may not know each other personally, but they are all connected and share a unique experience that connects them forever. For some it provides a certain feeling of unity with a broader community.

[Video: Lisa Zielinski]
During the day some of the messages shared the very personal heartbreak for loved ones who have committed suicide. Other messages and posters identify those who have not seen or been able to speak to their Jehovah's Witness family members. The truth is that their family can not show any love to them – no hugs, kisses or any other show of affection. They have effectively been cut off and isolated by their own flesh and blood – based entirely on the instructions of the Watchtower's Governing Body.
Some messages acknowledged the distress and damage of child molestation, calling upon the Governing Body to create and enforce policies that will actually protect children and other congregation members from criminal predators.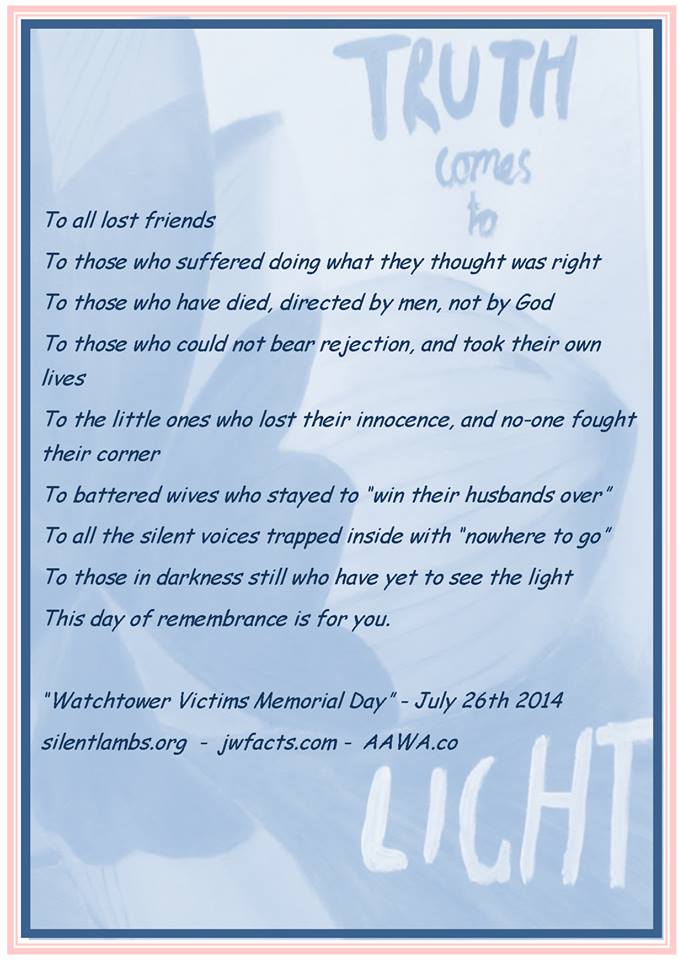 As in any proper community gathering, the perspectives of individuals were heard, shared and discussed.
While this event was not organized by AAWA, many of our supporters and volunteers were directly or indirectly involved and some participated in the day's activities. However, it is no secret that AAWA's board members and active volunteers fully supported the aims and intent of the organizers.  ["Truth / Light" meme: Rachel Jackson =>]
AAWA congratulates them all and applauds the success of their memorial project. We look forward to supporting and publicizing this in future years and we hope it becomes an annual event.
AAWA is an organization that acknowledges that its own strength and success comes from those who are willing to find peaceful, cohesive and mutually supportive ways of letting the Watchtower Society know that change is not only needed – but demanded. 
Associated Links
Watchtower Victims Memorial Day Facebook page 
Marc and Cora's Memorial Day Video
A personal testimony shared by a WTVMB participant (video)