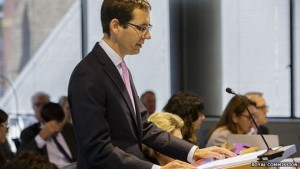 A representative of the Jehovah's Witnesses in Australia stated in Royal Commission hearing that the organization "will comply with mandatory reporting obligations when they learn about sexual abuse crimes against children in their congregation."
The Royal Commission into Institutional Responses to Child Sexual Abuse is now into the middle of its second week of hearings. During its investigation it has heard that the Watchtower Society's Australian Branch has recorded an average of one child abuse allegation or more every month – but in the past 60 years has never reported a single incident to police.
Rodney Spinks, the manager of the Watchtower's Australian branch service desk, admitted that they had always handled criminal matters internally and did not encourage their members or congregation elders to report incidents to police.
The branch service desk is the primary contact for Jehovah's Witness elders requiring guidance when dealing with reports of child abuse in their congregations. Brother Spinks said their priority is the safety of the child and that elders are referred to Watchtower publications on the matter.
Spinks claimed that elders are advised in a handbook that they "should never suggest not reporting the allegation to police." But Spinks also acknowledged they did not usually recommend that the victim or the elders should "directly report [incidents] to police." This drew a comment from Commission Chair, Peter McClellan, who reminded Spinks that there were already mandatory reporting requirements when any serious crime had been committed.
Spinks said he had been made aware of this and in the future the Australian branch would support and comply with mandatory reporting in spite of individual religious beliefs held by individuals who might wish to not report. Spinks commented that if mandatory reporting guidelines were consistent and required in all Australian states, they would comply.
The Commission has heard that Jehovah's Witnesses follow a biblical rule that a wrongdoing can only be proven when there are at least two witnesses. They also require that victims confront their abusers – even if they are children or fear reprisals.
Read the entire original news article here: Link
Several websites and YouTube channels are providing videos of the Royal Commission hearings including Barbara Anderson's WatchtowerDocuments.org and on her website and by "Christian Sparlock's" YouTube channel. Make some time to watch these engrossing and revealing sessions. They are unforgettable.
Also be aware that the Commission website has PDF and DOC downloads of all the session transcripts and wealth of previously secret confidential Watchtower letters and documents.
http://www.childabuseroyalcommission.gov.au/case-study/636f01a5-50db-4b59-a35e-a24ae07fb0ad/case-study-29,-july-2015,-sydney.aspx
Local news and editorial about current Commission investigation.