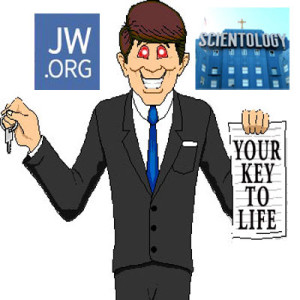 Watchtower and Scientology have much in common, especially when it comes to unduly influencing new recruits and their current members. But very little attention has been given to how both groups use hypnotic techniques to create and manage personality changes.
To learn more about this phenomenon, I attended a workshop in Toronto in June 2015 that was hosted by ex-Scientologist, Jon Atack. Jon, with help from Steven Hassan, Christian Szurko and Chris Shelton, explained how Scientology uses hypnotic techniques to lower the resistance of recruits. They demonstrated how human consciousness is not just our "rational" brain, but also a whole continuum of consciousness, much of which we are not aware.
At the normal end of the continuum, we are wide awake and fully aware of our surroundings. But if we add boredom, we will start to daydream, which is a normal dissociative state. Children are really good at it – especially if you try calling them for dinner when they are engrossed in a TV program or a video game. They don't hear you, as they are so deeply involved in what they are doing.
Adults do it too. If we're engrossed in a book or a task, we may block out all sounds and activity going on around us, focusing solely on what we are doing. This is perfectly normal and helpful. The continuum looks like this (click on chart to see full-size):

from: http://www.gracecounselling.com/user/image/dissociation-explanation.pdf
One common form of normal dissociative behavior is called highway hypnosis. We get in our car and drive home while totally involved in thinking about a problem we have. We can still be aware enough to stop at the lights and stop signs, obey the traffic rules, make all the right turns and be totally unaware that we are doing it.
Do you remember sitting at a meeting and thinking about what you had to do later in the day? Or found yourself counting ceiling tiles or how many times a certain word was repeated? Maybe you even occasionally nodded off? Those were all normal dissociative techniques to relieve us of boredom.
How You Can Be Influenced and Not Be Aware
Why am I explaining this?  Because those who use hypnotic techniques to get you to do what they want are unduly influencing you. They want to control your thoughts and emotions by deliberately trying to move you away from normal behaviorf towards abnormal forms of dissociation. They are trying to create a cult identity within you. In Jehovah's Witness terminology, they are trying to get you to put on "a new (Watchtower) personality."
During the session, while simulating how Scientology does it, our coach yelled at a student, poked fun and insulted him – anything to elicit a response. If the student broke the infamous Scientology "confront" stare they would start all over.
Some coaches have been known to be on the verge of sexually assaulting a student in an attempt to get a response without boundaries. Abuse is common and a student has to sit and take it. It is known as bull-baiting.
In my opinion, what the Watchtower Society does is far more subtle and, in many cases, more damaging and extremely difficult to identify.
How You Can Be Influenced
In Steven Hassan's revised edition of Combating Cult Mind Control, he talks about the "cult personality" and the "true personality." No one plans to become a cult member. People don't go out looking for a cult to join. Cults find people and turn them into cult members. A new cult identity is "grafted" onto the existing continuum of identities that shape the personality. In comparison, the resulting new identity is two-dimensional and under the direction of the cult.
Additional simulated Scientology drills showed how students were purposely confused, as that is when recruits and members are most susceptible. If the coach can keep the person in a state of mental confusion, there is a better chance to gain further control and solidify cult personality in a recruit.
If you look at the continuum chart above you will notice a yellow box at the top. It says:
"Disconnect from at least one of:
– Mind (Thoughts)
– Emotions
– Body (Physical sensation)
– Will (Decisions and desires)"
When a person becomes disconnected in any one of these four ways, the cult identity takes control, repressing the true self. This is very important to remember when dealing with family members still in the cult. And, it explains why intelligent people join cults. They have no idea what's happening to them.
How Jehovah's Witnesses Use These Techniques
As Steven, Jon, Chris and Christian were demonstrating various Scientology drills, I thought about how Jehovah's Witnesses conduct home Bible studies with potential members. Their technique is different, but the goals are the same: Get people to stop thinking for themselves. It's formatted this way: Read the question. Read the paragraph. Read the question again. Find and repeat the answer. Move on to the next paragraph. In reality, all their studies are done exactly the same way. Expanding on the repetition aspect, recruits and JWs are advised to prepare by underlining the answers before for their meetings and studies.
There is no room for independent thought. You remove the person's independent thought and replace it with the cult's thinking and eventually the cult identity. The whole JW study program is geared towards repressing the "true self" and replacing it with the "cult self." And Watchtower does this at every one of its meetings. Even the "public talk" is designed to be accepted by everyone without question.
What I found fascinating about the Scientology presentation, albeit different from Watchtower, was that both groups have effective methods for creating a cult identity that represses the person's authentic identity. The good news is that it can be undone. It takes work, but the cult self or identity does not have to stay in charge.
But a word of warning: That cult identity can be easily triggered by other people. It does not disappear. It is still there and many ex-cult members get caught up quickly in other cults after leaving one. It is no different from the abused wife who keeps going back to her abuser – or sometimes just goes out and finds another person to abuse her. The cult of one (an abusive spouse) is the same as a relationship with any cult leader or group.
Assessing Our Own Beliefs
As ex-Witnesses, we need to take a good look at the things we were taught. While some of it was true, much of it was blatant misinformation. Internalized beliefs and fears that are the result of Watchtower propaganda, and we must find ways to discover what those beliefs and fears are and rid ourselves of them.
The age-old question: "Who am I?" needs a good long examination because many things we were taught to believe were actually half-truths and outright lies. It isn't enough to just walk away from the Witnesses. We also have to work to eradicate those Watchtower beliefs and phobias because they will affect the choices we make as we move forward in our lives.
The Toronto seminar/workshop will be available on Vimeo Pro in the near future. For details, you can contact Professor James Beverly at [email protected].
This is a link to Jon Atack's best seller in the 1990s on Scientology
http://www.amazon.com/Lets-sell-these-people-Piece/dp/1482023032/ref=sr_1_1?s=books&ie=UTF8&qid=1437069001&sr=1-1&keywords=jon+atack&pebp=1437069012562&perid=1BQ4B6D2GX8D019D14CM
This is a link Jon Atack's December 2014 book Scientology
http://www.amazon.com/SCIENTOLOGY-Cult-Greed-Jon-Atack/dp/150549012X/ref=sr_1_3?s=books&ie=UTF8&qid=1437069001&sr=1-3&keywords=jon+atack&pebp=1437069107626&perid=1BQ4B6D2GX8D019D14CM
This is a link to Steven Hassan's 2015 book on Cults and Mind Control
http://www.amazon.com/Combating-Cult-Mind-Control-Best-selling/dp/0967068827/ref=sr_1_1?s=books&ie=UTF8&qid=1437069218&sr=1-1&keywords=steven+hassan&pebp=1437069208783&perid=1Y0GF5P1W1HBB1WJRXKN
This is a link to a video that Chris Shelton produced after the June workshop in Toronto. https://www.youtube.com/watch?v=CuXfe77Qb7g